Country music up-and-comer Kaitlyn Baker may be from a small town, but she's chasing big dreams.
×
Paula Rowe
×
Kaitlyn Baker - "Coal Train"
×
Paula Rowe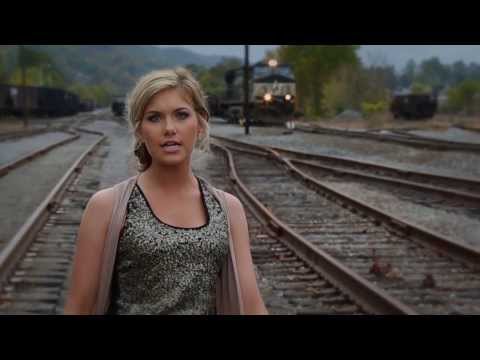 The first time Kaitlyn Baker sang in public, the shy 8-year-old wearing glasses held a paper in front of her face. Today, she is a 5-foot 5-inch, blue-eyed beauty with soulful, smoky chops that helped land her a record deal and put her on the fast track for country music stardom.
In January, 19-year-old Baker signed a contract with Nashville's Silvercreek Records, and she plans to release her first album with the label later this year. Though she is headed to the bright lights and big city of country music's command post, Baker's music is all about home and the coal-packed mountains where she was raised.
"Coal mines are such a big part of this area," says Baker of her hometown of Pound in the westernmost part of the state, where she still lives with her parents and younger sister. "My whole family has either been in the mines or associated with the mines."
In a newly released music video for the catchy "Coal Train," an upbeat song she co-wrote with her manager, Scott Arnold, Baker stands near one of Pound's historic markers and sings of the coal trains that have rumbled in and out of Wise County since the late 1800s.
Like the legendary Loretta Lynn, who also sang with pride of the Appalachian coalfields and who comes from just over the border in the Bluegrass State of Kentucky, Kaitlyn Baker is truly a coal-miner's daughter. Her father, Lyndon Baker, 50, today heads his own logging firm, but for five years he mined coal. It was a tough life, he says—crawling on his hands and knees just to get in and out of the mine.
When Kaitlyn was born—a few weeks premature—Nov. 23, 1994, her father says she suffered from colic and cried constantly. "The reason she can sing so well is because of her lungs," he says. "She really worked them really well."
 Baker grew up with musical influences all around; her grandfather played banjo, her grandmother sang Loretta Lynn songs. "I guess it was natural for me," says the easygoing Baker. "Mom said I used to sing before I could talk."
"She's an old soul," says her mother, Tammy Baker, 42. "She's so mature for her age."
But not too many years ago, Lyndon Baker had to push his timid little daughter to sing. "She had to be heard; she could sing so well," he says. "It was just amazing, the notes that she could do."
When Baker (who counts Elvis Presley as another influence) went onstage at Pound's Ferbie Chapel Church for her vocal debut, she sang (as she hid her face) "As I Went Down to the River to Pray." And pray? Well, she did. "I thought I was going to die," Baker says. "I was nervous. I was shaking all over."
Hardly a year later, Baker finished at the top of a local singing contest and won a trip to Big Mama Recording Studio in Seymour, Tennessee, where she recorded a CD of cover material—while in the fifth grade. Soon after, she released another album—a self-produced gospel record, largely influenced by her family's faith, singing together at Pyles Memorial Chapel in Wise County. Then, at 14, still on her own, she delivered a country record called Sure Feels Like Home, featuring songs written by various Nashville songwriters. "I was always in the studio," she says. "If I wasn't doing shows, I was in the studio."
Baker left public school in the seventh grade so that she could be homeschooled. It became difficult to keep scheduling class around concerts, plus she needed time to write songs and travel to Nashville to meet people in the industry. Among them was Steve Pope, a veteran of Nashville's music scene and now the vice president of Silvercreek's Nashville operations.
"The Lord has blessed her with a great voice," Pope says. "The passion in her delivery makes her songs believable. And she has a big heart."
Credit Baker's intense focus. "I've never been a normal teenager," Baker says. "All my time and focus went into music. This is all I want to do."
She has opened shows for country singers Sammy Kershaw and Doug Stone, as well as for the country band Sawyer Brown. She also became a regular at concerts across Southwest Virginia in Big Stone Gap, Appalachia, Wise, Coeburn and St. Paul.
All along, Baker has won applause—for the shows, the CDs and, lately, for her new song "Coal Train." Says Baker, "It's such a good feeling to have so many people message you, call you, tell you how proud they are of you."
A night owl, Baker often stays up to the wee hours of the morning, writing songs at 3 or 4 a.m.
"I never know when exactly I'm going to come up with another song," she says. "I can't sit down and get a pen and paper and write. It has to just come to me."
The singer describes her songs as "mountain-y," with a flash of bluegrass, a healthy dose of fiddle and a driving rhythm. "We want them to sound rootsy," she says. "I want people, when they listen to it, to be like, 'Oh, I went to Virginia and back today.'"
For Baker's first project with Silvercreek Records, she is working on tracks like her rockin' blues-influenced original, "The Trouble Is You," as well as the forthright "Coal Train."
Smiling widely, she talks about a newly-written tune called "Burn" and says she hopes the song, a real story about burning down memories at the end of a relationship, will be the album's first single.
"I try to be as real as I can with my songs," she says. "And I'm true to who I am. I don't try to be somebody I'm not."
Kaitlyn Baker will be featured on the June 7 taping of the PBS television show "Song of the Mountains." For information about other performances, go to KaitlynBaker.com
Upcoming Tour Dates
5/14/14, 7:30 p.m.
Silverados Rivergate
709A Rivergate Parkway, Goodlettsville, TN
Tickets: $10 advance, $15 door.
SilveradoNightClub.com, 615-851-4490
6/7/14, 7:00 p.m.
"Song of the Mountains" TV taping
Lincoln Theatre, 117 E. Main St., Marion, VA
Tickets: $25.
SongOfTheMountains.org, 276-783-6092
6/28/14, 8:30 p.m.
Mount Carmel Block Party
Main Street, Mount Carmel, TN
Tickets: Free.
Facebook.com/pages/Mount-Carmel-Block-Party/163256547068584, 423-357-7852